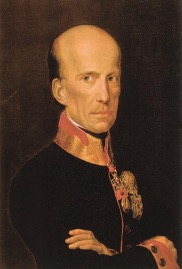 Tradition unites us
"In the harmony of the many lies the power to do good. Contributing to this is the task of every man and woman."
- Archduke Johann, 1846
Schelhammer Capital Bank AG is the private and investment bank in the Grazer Wechselseitige Versicherung AG (GRAWE) group. Together with the Bank Burgenland, it forms the GRAWE banking group. The insurance company was founded in 1828 by Archduke Johann as a fire insurance company. Before establishing the company, he experienced first-hand how a huge, devastating fire destroyed the existence of several generations in the blink of an eye. This was all the reason he needed to create a solution by founding a fire insurance company. More or less simultaneously, in 1832, what is today the oldest private bank in Vienna was founded by the merchant C. M. Perisutti. Over almost two centuries, Schelhammer & Schattera has shown time and again that even the heaviest blows can be overcome. The bank has transformed economic crises, fires and even two World Wars into reconstruction and progress. For example, hospitals and schools run by religious congregations were constructed. Last but not least, the bank was also substantially involved in the reconstruction of St. Stephen's Cathedral.
In keeping with the tradition of the founding father of the GRAWE, to this today a direct descendent, Dr. Philipp Meran, represents the company founder as president of the supervisory board of the GRAWE, the Grazer Wechselseitige Versicherung AG. Behind the group, an association ensures independence based on reciprocity.
The Schelhammer Capital subgroup includes the online broker DADAT, BK Immo as an initiator of freehold apartments and building owner/developer models, and Security Kapitalanlage AG as a fund company of the group. In addition, Schelhammer Capital also holds a 10% share in Bank99, which operates throughout Austria.
Schelhammer Capital Bank AG is intended for wealthy private individuals, families and foundations as well as companies and institutional clients, for all issues related to asset investment. What is more, we also offer inexpensive portfolio and account management via "die plattform" for clients of free financial service providers.
Our clients
Our aim is to turn you into enthusiastic investors, to increase your wealth and to guide you into a – financially – secure and prosperous future and retirement. This is why we pursue the objective of thematic and quality leadership to your benefit. This is reflected in various cornerstones. For us it is important to also keep future generations in mind. We were the first in Austria – and presumably in Europe – to facilitate selected sustainable investments for investors. Since 1989, we have consistently been expanding our expertise in this area. Along with discerning and wealthy private investors, we also count many institutions among our long-standing clients, such as pension funds, private foundations, church institutions, municipalities, insurance companies and industrial companies. The number of investors is constantly increasing, and with them the managed assets. We are proud of this fact. Growing wealth is the best proof that we are doing something right. Discerning private investors and institutional clients turn to us when they want advice in all issues regarding institutional and individual financial investment. In many fields of financial investment, we have acquired profound, useful knowledge. These include:
Private equity as a part of alternative investments
Building owner/developer models
Freehold apartments
Philanthropy consulting
Private foundations
Investment strategy

Foreign funds analysis
There is barely a financial topic that is not covered within the entire GRAWE group. No matter whether you want to lease a car or agricultural machine or need a loan to build a kindergarten, you're sure to find the right contact person with us. We truly cover the A-Z of investing and securing your future.
Our employees
Boosted by the strength of our group, we think and act entrepreneurially. What matters is the high satisfaction of our clients. Enthusiastic investors, in turn, make our work even more enjoyable. This creates the best conditions for personal identification and great dedication on the part of our highly qualified employees.
Make an appointment
Kontaktieren Sie jetzt unsere Ansprechpartner und vereinbaren Sie einen Termin!
Our owners
In Grazer Wechselseitige Versicherung AG, we have a solid, strong and above all reliable owner. Thanks to the independence of the GRAWE group since its founding in 1828, we are able to operate freely and in line with market requirements. The boards of the GRAWE group support us as supervisory boards.